About Department of Mechanical Engineering
Gyan Vihar's broad study program helps students to meet their objectives and particular career goals. The program prepares them for technological careers and students can utilize this program as a launching pad for professional careers in industry, business or public services. The department of Mechanical Engg at Gyan Vihar, started in the year 2000, has carved out for itself a big name all over the country. It was one of the first departments to be started with the institution. Industry oriented syllabus, rich infrastructure, state-of-art laboratories, well stocked library, eminent faculty & best pedagogy made it the first NBA accredited department of Rajasthan. The aim of the department is to advance knowledge and educate students in the area of mechanical engineering that will meet the need of Industry & academics and best serve the nation and the world in the 21st century. Our objective is to prepare the manpower that is globally best. Suresh Gyan Vihar University is the first research oriented university in Rajasthan. Students have a variety of opportunities to investigate a broad range of research in thrust areas of design, optimization, analysis, energy, alternate fuels, CAD/CAM, Robotics, Nano technology, Computational Fluid Dynamics etc. These projects prepare students for design positions that require skillful and imaginative solutions to solve challenging engineering problems.
The Department of Mechanical Engineering offers active & practical learning with its well equipped and sophisticated laboratories. Our excellent infrastructure and state of the art facilities provide the practical skills and knowledge that employers are looking for. The efforts of experienced supporting staff, conductive atmosphere, availability of modern facilities is reflected in the excellent performance of students, a number of ranks in the UG and PG courses and GOLD Medals. The department conducts various training programs, which helps to keep pace with fast-changing industrial needs. Our program enables the students to take up careers in a broad spectrum of industries. Most of the students are campus placed in various companies; some others opt for higher studies. The department participates in national and international conferences to share their knowledge obtained through research with other researchers. The department also conducts many student level Technical Fests to enhance student's technical skills and to update their knowledge in modern developments in engineering and technology. To encourage the final year students to carry out innovative projects, a project exhibition is arranged every year at the end of academic year, where projects are evaluated by a panel of eminent academicians and industrialists.
To enhance and continuously improve the quality of education imparted.
To foster good industrial relations and continuously seek projects from the industries.
Continual improvement in the department quality in terms of teaching , practical knowledge and facilities in the department.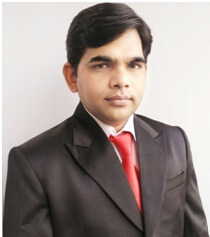 Dr. Neeraj Kumar
HOD, Mechanical
Our aim is to be a centre of excellence in the field of Mechanical Engineering where the best of teaching, learning and research synergize.
The Mechanical Engineering Department is committed to :
Produce effective and responsible technocrats for global requirements by providing quality education.
Constant striving to improve pedagogical methods employed in delivering the academic programs.
Respond effectively to the needs of the industry and changing world.
Conduct basic and applied research and to generate intellectual property.
Provide consultancy to the neighborhood and cultivate the spirit of entrepreneurship.
On the behalf of the Mechanical Department, SGVSET, we solicit your Company's esteemed presence in the forth-coming placement season for the purpose of selection and recruitment of the students of this college.
The department of Mechanical engineering being one of the First NBA accredited department of Rajasthan and the finest departments of the University is headed by a learned and experienced faculty, apart from that we have a number of Guest faculties, who with their rich experience in industry are able to enlighten the students about the latest trends and practical aspects of engineering. The department has completed five years of academic excellence and has continuously producing the finest set of vibrant and proactive engineering. Past record tells us that our mechanical engineers have proved their worth in industry as it is evident from our alumni list, with our engineers heading industries in India.
The department offers B.Tech. Degree course in Mechanical Engineering and M.Tech. Degree course in Manufacturing and Industrial Engineering, the syllabus of which provides up to date technical knowledge, managerial skills, and exposure to Quality management. It is the learning experience, which has propelled our engineers to the pinnacles of success. Our engineers are waiting for an opportunity to prove their mettle at work on the foundation of their hard-earned degrees. With our engineers assimilated in your enterprise, you can look forward to work that will place our company not only ahead of others but also ahead of times.
+91- 141-2988411/12          admissions@mygyanvihar.com