Madhuri Patil (Mohite) 1, 3, Dr. AbhayRaizaday2
. 1. Research Scholar, Gyan Vihar School of Pharmacy, Suresh Gyan Vihar University, Jaipur, Rajasthan, India
Gyan Vihar School of Pharmacy, Suresh Gyan Vihar University, Jaipur, Rajasthan, India
Gourishankar Institute of Pharmaceutical Education and Research, Limb, Satara. Maharashtra
Corresponding Author E-mail: msmohite.2008@yahoo.com
Contact mobile number: – 9960426837
 ABSTRACT:
Borassus flabellifer Linn. is a tall tree (palm) belonging to the family Palmae. It is native to tropical Africa. It is a most beautiful gift for humankind because all of its parts roots, leaves, inflorescence, flowers, fruits and seeds could be utilized for medicinal properties. The focus of the present work was to take an updated compressive potential overview of Borassus flabellifer Linn. This review article is also focused on the medicinal properties of different parts of the plant. The review was inferred that the roots of it are having antibacterial and anti-diabetic activity. Leaves of plants are having different pharmacological activities like antibacterial, antifungal, antioxidant, anti-inflammatory and anticancer activity. Its male inflorescence shows cogent anti-inflammatory activity, antioxidant, antidiabetic, analgesic and antipyretic properties. Fruits of plants are having different pharmacological actions like anthelmintic, diuretic, antioxidant, antimicrobial, antibacterial, wound healing, immunomodulatory and even antiulcer. Seed coat exhibit antimicrobial antibacterial and antioxidant activities. Phytochemical studies show the existence of steroidal glycosides like Borassosides, fats, Flavonoids, carbohydrates and Vit. C etc. The present study includes the phytochemical, pharmacological screening and utilization.
Keywords: Borassus flabellifer Linn, Phytochemistry, Pharmacological Studies, Traditional uses.
Introduction: –
Nature always stands store-house of remedies to cure all ailments of humankind. The history of herbal medicine is an old human civilization. (1) Number of medicinal plants shows different types of pharmacological actions due to the presence of phytoconstituents. Borassus flabellifer Linn. is one of them having a number of pharmacological activities.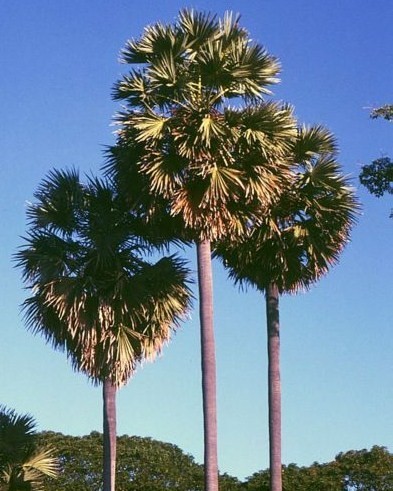 Fig. No. 1 Borassus flabellifer Linn. Tree
CLASSIFICATION
Kingdom: Plantae
Super division: Spermatophyta
Class: Liliopsida
Order: Arecales
Family: Arecaceae
Genus: Borassus L.
Species: Borassus flabellifer L. (2)
Different species:-
Borassus aethiopium – African palm
 Borassus akeassii – Ake Assi's palm
Borassus   flabellifer – Asian palm.
Borassus heineanus – New Guinea palm.
Borassus madagascariensis – Madagascar palm.
Borassus sanbiranensis – Sambirano palm (3)
Vernacular Names: –
The plant names in different languages as follows (4, 5): –
Sanskrit:  Tal
English: Palmyra palm
Hindi:  Tal, Tar
Kannada: Tale mara
Marathi:  Tad
Malayalam: Pana
Tamil: Panai
Telugu:  Tadichettu
Parts used: –
Roots, buds, toddy (i.e. – juice from buds), spadices, flowering stalk, fruits, leaves and bark, Seed, whole plant etc. (6, 7)
Description: –          
Borassus flabellifer Linn. is a tall tree (palm) growing in sandy soil and having 20-30 meters height with a straight trunk. (8) The root is hairy with more slender transverse branches. Bark and wood are dark. (9) The stem is black and consists of a hard-outer portion mainly composed of stiff longitudinal fibres. The central part contains the pith which is soft and starchy (6). Leaves palmately divided, fan-shaped petioles, 0.6-1.2meter long, terminal, margins, spinulose (8). Flowers yellow, born in spadices, female spadix sparingly branched, bearing few scattered solitary flowers. Male flowers small, mixed with scaly bracts, secund in two series in a small spikelet. Female flowers are larger globose. Fruits are large and fibrous, containing usually three nuts like portions each part encloses a seed (6). The plant bears flowers and fruits from December to August (10)
 Fruit: –
The palm produces fruits when 15-20 years old, giving an annual crop of 50-200 fruits in 6-12 bunches per tree. The tender fruits appear from May to August, whereas the ripe ones are available from July to October and duration varies from locality to locality. The seeds contain a soft, sweet, jelly-like endosperm with sap. The gelatinous pulp gradually hardens into a bony kernel and develops a fibrous coat. The ripe fruit varies in colour from light gold to brow attached to spadix and nearly black at the end. (8)
Chemical constituent: –
Amino acids, sterol and fatty acids: – It contains free amino acids lysine, aspartate, glutamate and phenylalanine dominate one.  It also contains steroidal Saponins flabelliferins.  The main digestible carbohydrates are simple sugars of which sucrose, glucose and fructose dominate. Carotenoids: -β-carotene, a mixture of 4 main Carotenoids α carotene and β-zeacarofene lycopene and zeta-carotene.  Minor constituents: – Vitamin C & vitamin B complex. (11)
Traditional uses: –
Root: –
The roots are cooling, restorative, diuretic, stimulant antiphlogistic and anthelmintic. Useful in hyperplasia, burning sensation, strangury and inflammation. Leaf stalks juice and young root are good for gastric catarrh and hiccup. It is employed as a cure for gonorrhoea. Inflorescence ash is the best antacid, antiperiodic and is applicable in hyperacidity. Also shows usage in hepatomegaly, heartburn, bilious fever, splenomegaly and skin diseases. Root decoction is used to restore normal physiological activities, promotes the flow of urine, expel worms and check respiratory ailments. (4)
Fruit: –
These are anthelmintic, depurative, styptic, stomachic, sweet, laxative, sedative, aphrodisiac and cooling. Fruits are utilized in flatulence, colic, constipation, intestinal worms, dyspepsia, general debility and in pitta, Vata (4). Used as a tonic for asthmatic patients, stimulant, anti-laprotic, diuretic, antiphlogistic and given in gas troubles. (10)
Flower: –
The juice from the flowering stalks is given in diabetes. The dried flowering stalk shoot works on bilious affections and enlarged liver. Sweetish juice from the flowering stalk is cooling and stimulant; if taken regularly, it reacts as a laxative. (5, 6)
Leaves: –
Green leaves extract is beneficial in secondary syphilis. The leaf juice checks hiccups and relieves gastric catarrh. Palm sugar prepared from toddy is a good antidote for poisoning. It is given disorders of the liver and gleet. (6)
Other uses: –           
Young shoots of the palms are reported to contain a toxic factor that is heat stable and insoluble in organic solvents; they are neuro-toxic, but not hepato-toxic to rats. The extract obtained on boiling the central axis of the inflorescence (male) with mustard oil, is reported to be used for joint pain and swelling due to rheumatic affection.
Origin and distribution
Borassus flabellifer Linn. is distributed in South-East Asia, Burma (Myanmar), New Guinea and Cambodia. It is grown on dry or sandy localities along river banks, throughout India. It is obtained from Tamil Nadu, Odessa, West Bengal, A. P., Bihar, Karnataka and Maharashtra (12).
Cultivation
The palm grows naturally and no particular cultivation is necessary. It requires no artificial irrigation or manuring. Direct sowing method used for propagation. In the earlier stage of germination, only the underground stem portion increases in thickness and the airy part of the trunk elongates and develop into its characteristics cylindrical black stem after 15-20 year. The Palmyra usually starts flowering at age of 15 years after the commencement of aerial growth. It flowers during March-May in some areas and during August-Sept fruit get ripe (8).
By-product
There are so many products are formed by the various parts of plants Such as Toddy, jaggery, sugar, Oil, candy, spread, toffee, Toddy palm wine, burfi, Pickle, Canned Palm, Chilling, Cola, Honey etc. Few of them are used from many years ago.
Toddy: It is formed by the fermentation of sugary sap. Fermentation is done by natural yeast and bacteria. It content approximately 4- 8% alcohol. Toddy is a traditional drink with a refreshing quality. It is collected after fermentation becomes sour, in the morning or in the evening. It is one of the raw alcoholic beverages.
Jaggery: Due to its nutritional and medicinal properties its price is high. It gives an earthy, intense taste similar to chocolate. It is called as palm gur.
Sugar: It is prepared from fruits.
Oil: It is obtained from fruit through wet processing.
Candy: Candy is prepared by heating the Neera for 2 hours to obtain the thick consistency.
Spread: Fruit pulp is extracted by using water and heat (70° C for 10 min). The extracted pulp is mixed with others and heat on the lowest flame with continuous stirring. Cooked material on cooling filled into broad mouth bottles, capped, labelled and stored.
Toffee: Palm toffee is prepared by mixing fruit pulp with sugar, skim milk powder, glucose, refined flour and starch. The mixture is cooked for 40 minutes with constant stirring. The mixture is stretched on a smeared aluminium tray and left it overnight.
Wine: Wine is made by using the fermented flower sap. It is white, alcoholic, sweet having a strong smell with a mild taste. The sap of flowers undergoes fermentation because of natural yeast.
Burfi: It is prepared with khoa, butter and lime water. Fruit pulp and sugar are also used for the preparation of Burfi.
Pickle:  It is made with small fruits which are pickled in vinegar. (13).
Borassus flabellifer Linn. has a lot of nutritive and nutraceutical values which are well studied and reported by many researchers as like medicine. Borassus flabellifer Linn. is a generous source of biopharmaceuticals, it exhibits many biological properties and is utilized as a remedy for many diseases (14).
Pharmacological activities.
Cytotoxic activity
The cytotoxic activity of seed coat was over on HeLa cell by MTT assay. Significantly inhibition of growth of the HeLa cells was found. (15)
Antimicrobial activity
Seed coat extract (Methanolic) was screened for five bacterial strains. Antimicrobial activity screened for Staphylococcus aureus, Escherichia coli, Bacillus subtilis, Klebsiella sp, Pseudomonas aeruginosa by Disc diffusion and agar well diffusion methods. (16)
Anthelmintic activity
Toddy palm Sap shows the best Anthelmintic activity. In this experiment, earthworms were split into three groups, tested with extract of various concentrations. The reference standard was Albendazole. The Control group is treated with normal saline. (17).
Antifungal activity
Nutrient agar media and cup plate method used for evaluation of antifungal activity on Candida albicans and Aspergillus niger (18).
Antioxidant Activity
Different extracts such as Petroleum ether, chloroform, methanol and chloroform-water of fruits were evaluated for antioxidant activity by DPPH and ABTS method. The percentage scavenging activity of fruits was found to be 80.5, 84.6(19).
α-glucosidase inhibitory activity
It is done by Sukanya and et-al. The results revealed that ethyl acetate extract inhibited α-glucosidase (20).
Haemolytic activity
Palmyra flour was tested for haemolysis. It is evaluated on human RBC. (21)
In-vitro anticancer activity using SRB assay
Dr. Ashok has carried out the anticancer activity of methanolic leaves extract which was screened on the Human colon cancer cell line, human hepatoma cell line and Human lung cancer cell line by SRB assay. (22)
Anti-inflammatory activity
Root extract (ethanolic) was evaluated for anti-inflammatory activity by using acute and chronic models like; carrageenan-induced rat paw oedema and carrageenan-induced air-pouch model. (23).
Analgesic activity
Acetic acid-induced writhing, hotplate, tail-clip methods were used for the investigation of analgesic activity. The ethanolic extract of male flowers (inflorescences) produced significant inhibition of pain.
Antipyretic activity
The ethanolic extract of male flowers (inflorescences) was investigated for antipyretic activity. It shows significant activity at either dose (24).
Hypoglycaemic activity
A significant reduction in blood glucose levels was found for ethanolic extract of dried inflorescence. (25)
Anticonvulsant activity
Alcoholic extract of leaves was evaluated for the anticonvulsant activity it is done by maximal electroshock seizure test and pentylenetetrazole seizure test. (26).
Antibacterial, antifungal and antioxidant evaluation
Eight pathogenic strains of bacteria and fungi were investigated for antimicrobial potential by using the agar well diffusion method. (27).
Antimicrobial Activity of Immature Palmyra Palm
      Ethanol extract of immature Palmyra Palm fruits was evaluated by good diffusion (bacteria), disc diffusion (fungi) methods for antifungal efficacy and antibacterial activity. (28).
The DC conductivity of Activated carbon (AC) Produced from flowers was determined. (29).
 Anti-diabetic activity
Ethanolic extract of flowers was screened for anti-diabetic potential against Alloxan induced diabetic rats. There was a significant decrease in fasting blood glucose levels. (30).
Anticancer activity of leaf
Ethanolic leaf extract was evaluated for anticancer activity. The plant showed a good cytotoxic effect. (31).
Conclusion
In the updated compressive potential overview we concluded that the various parts of the Borassus flabellifer Linn. are having different types of pharmacological activities such as anti-inflammatory, analgesic, anticancer, cytotoxicity, anti‐ hyperglycaemic, antioxidant, anti-bacterial, antifungal, anthelmintic activity, haemolytic activity. Pharmacological studies which explore the potentiality of the plant will be helpful to society and various researchers.
References
Kokate CK, Purohit AP, Gokhale SB. Textbook of Pharmacognocy.38th ed.Pune: Nirali Prakashan; Jyly, 2007:1.
Plants profile for Borassus flabellifer Linn. (Toddy palm) UASD plants; G:\NIF\plant profile. mht.
G:\NIF\Borassus-Wikipedia. mht and Borassus flabellifer wikipedia, the free
Arya Vaidya sala. Indian Medicinal plants Chennai; Orient Longaman Ltd 1996; 293.
JC Kurian Plant that Heals Oriental watchman Publishing House, Pune, and India. 1995 first ed. 83.
Kapoor LD, Handbook of Ayurvedic medicinal plants first ed. Washington: CRC Press; 2005, 82.
K. M. Nadbarni, Indian materia medica Vol. 1 A. K. Nadkarni, Popular praskashan- Pvt. Ltd.; 1976.
The Wealth of India. A Dictionary of Indian Raw materials and industrial products. Publications & Information directorate CSIR New Delhi; 2B 187-198.
Van Rheedede's Hortus malabarus, English ed. Vol. I 23-24.
Asima Chatterjee, Dr Satyesh Chandra prakashi. The Treatise on Indian Medicinal plants CSIR New Delhi 1992:14.
Review of the chemistry and biochemistry of seed shoot flour and fruit pulp of the palmyrah palm (Borassus flabellifer Linn.).J. Nath. Sci. Foundation Sri Lanka. 2002; 30(1&2): 61-87.
Ankita Aman, Rajni Rajan and Suparna Sinha The Palmyrah Palm (Borassus flabellifer L.): Overview of Biology, Uses, and Cultivation Biomolecule Reports ISSN:2456-8759 November 2018.
R. Sridevi Krishnaveni1, R. Arunachalam, M. Chandrakumar, G. Parthasarathi1 and R. Nisha Potential Review on Palmyra (Borassus flabellifer L.) Advances in Research 21(9): 29-40, 2020; Article no.AIR.59417.
R Mariselvam SJ Ighnachimuthu1 and P Mosae Selvakumar3,4 Review on the Nutraceutical Values of Borassus flabelifer Journal of Pharmaceutics and Drug Research JPDR, 3(1): 268-271 January 10, 2020.
Saranya K, Sivakumar G, Gopalasatheeskumar K, Arulkumaran G. An Updated Overview on Phytochemical screening and Pharmacological Screening of Borassus flabellifer Linn. PharmaTutor ISSN: 2347-7881 | 2019Vol 7, Issue 5.
Muthukumar Alamelumangai, Jothi Dhanalakshmi, Manohar Mathumitha, Rajasingh Saranya Renganayaki, Peraman Muthukumaran, Nachimuthu Saraswathy; In vitro studies on phytochemical evaluation and antimicrobial activity of Borassus flabellifer Linn against some human pathogens. Asian Pacific Journal of Tropical Medicine Asian Pac J Trop Med 2014; 7(Suppl 1): S182-S185.
. Tribhuvan Singh, Ravi Kumar V, Kumanan R et al., (2015); Comparative Study of In-vitro Anthelmintic activity of Sap of Borassus flabellifer; WJPPS; 5(1);701-706.
Tribhuvan Singh, Akhilesh Kumar Verma, Syed Imran Haq U, et al.,(2017); Evaluation and Determination of Antifungal Potentials of Sap of Borassus flabellifer; J Pharm Sci Bioscientific Res; 7(1);111-113.
Pramod HJ, Yadav AV, Raje VN, Madhuri Mohite, et al., (2013); Antioxidant Activity of Borassus flabellifer (linn.) Fruits; Asian J. Pharm. Tech; 3(1); 16-19.
Sukanya Dej-adisai, Thanet Pitakbut and Chatchai Wattanapiromsakul, Alpha-glucosidase inhibitory activity and phytochemical investigation of Borassus flabellifer Linn. African Journal of Pharmacy and Pharmacology; Vol. 11(3), pp. 45-52, 22 January 2017
Keerthi AAP, Jansz ER, Ekanayake S. (2009); Studies on a hyper haemolytic compound of Palmyrah flour; Vidyodaya J. of Sci;14;79-84.
Ashok P. Gingine, Tukaram M. Kalyankar, S. V. Mandge, Prasad G. Jamkhande, In Vitro Evaluation of Anticancer Activity of Methanolic Extract of Borassus Flabellifer Linn. Leaves on Different Human Cancer Cell Lines Asian Journal of Pharmaceutical Technology & Innovation ISSN: 2347-8810 Asian Journal of Pharmaceutical Technology & Innovation, 04 (20); 2016; 11 – 15.
Suthar S, Kumar K. (2014); Evaluation of the anti-inflammatory activity of Borassus flabellifer root ethanolic extract; International J Res Pharm Science; 5(3);27-29.
Mahesh S Paschapur, M B Patil, Ravi Kumar, Sachin R Patil Influence of ethanolic extract of Borassus flabellifer L. male flowers (inflorescences) on chemically induced acute inflammation and polyarthritis in rats International Journal of Pharm Tech Research ISSN: 0974-4304 July-Sept 2009.
Pradeep Goyal, Nilesh Jain, G. K. Singh, B. P. Nagori Hypoglycemic Activity of Inflorescence of Borassus flabellifer Extracts on Blood Glucose Levels of Streptozocin-Induced Diabetic Rats Iranian Journal of Pharmacology & THERAPEUTICS January 2014 | vol. 13 | no. 1 | 30-34.
Saravanan Kaliyaperumal, Pushpesh Kumar Mishra, Girendra Kumar Gautam. (2016); Anticonvulsant activity of Borassus flabellifer leaf extracts; Eur J Pharm Med Res; 3(11); 440-444.
Prasad G. Jamkhande, Vikas A. Suryawanshi, Tukaram M. Kaylankar, Shailesh L. Patwekar Biological activities of leaves of the ethnomedicinal plant, Borassus flabellifer Linn. (Palmyra palm): An antibacterial, antifungal and antioxidant evaluation Bulletin of Faculty of Pharmacy, Cairo University Volume 54, Issue 1, June 2016, Pages 59-66
Krishnamoorthy Renuka, Chandiran Sharmila, Sorimuthu Pillai Subramanian Evaluation of Antimicrobial Activity of Immature Palmyra Palm (Borassus flabellifer Linn.) Fruits J. Pharm. Sci. Rev. Res., 55(1), March – April 2019; Article No. 10, Pages: 50-57 ISSN 0976 – 044X.
Sivachidambaram,a J. Judith Vijaya, a L. John Kennedy,b R. Jothiramalingam,c Hamad A. Al-Lohedan,c Murugan A. Munusamy,d E. Elanthamilane and J. Princy Merline. Preparation and characterization of activated carbon derived from the Borassus flabellifer flower as an electrode material for supercapacitor applications The Royal Society of Chemistry and the Centre National de la Recherche Scientifique 2017 41, 3939—3949.
Satish A. Kavatagimath, Sunil S. Jalalpure, Ravindra D. Hiremath Screening of Ethanolic Extract of Borassus flabellifer Flowers for its Antidiabetic and Antioxidant Potential Journal of natural remedies DOI: 10.18311/JNR/2016/654
Babu, Jeenachandran Assessment of anticancer activity of ethanolic extract of Borassus flabellifer Linn. leaf against Ehrlich ascites carcinoma (EAC) and daltons ascites lymphoma (dal) in swiss albino mice International research journal of pharmacy ISSN 2230 – 8407; 2019, 10 (1).