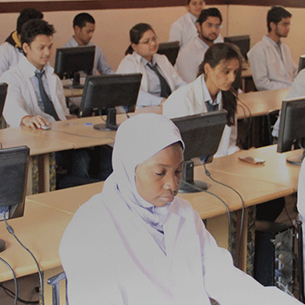 Date: 06.03.2019
Name of Activity: Program on Personality Enrichment Sessions "Secrets of Success".
Time: – 01:30 PM to 02.30 PM
Venue: Kalindi Auditorium, SGVU
No. of students attended: 60
Brief objective of event: Pursuit of happiness, and how we can lead more fulfilling and satisfying lives.
In charge: – Ms. Sunita Tekwani and Ms. Shaneza Aman
Brief description of event:
Spiritual Guru JI from Akshaya Patra
The session started at 01.30 P.M. and ended at 02:30 PM at Kalindi auditorium of SGVU. It was a lecture with practical approach to understand about materialistic and spiritual happiness. The main theory behind spiritual is that everything is devine, and everything is a gift from God, and everything is our own deepest consciousness bursting forth into a phenomenal life experience that is ultimately our creation, and in a sense our life dream. Lecture was completely student centric and complete involvement of students was there. Overall the program was quite interesting and enhanced the knowledge of the students.