History & Genesis
History & Genesis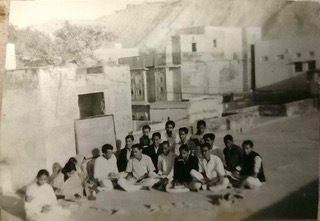 Sahitya Sadawart
It was the time when the erstwhile Rajputana was yet to emerge out of the feudal darkness, illiteracy plagued the masses and the doors of formal education remained firmly shut for the downtrodden and the subaltern. It was only with the adaptation of modern methods of dissemination of education that led it to its current status as the leading city for higher education learning in India. Sahitya Sadawart was amongst the first education institutions in Jaipur established with the aim of incorporating the traditional philosophies with the modern delivery. Sahitya Sadawart saw its birth in the year 1938, as the culmination of a philosophical journey undertaken by Shri Kamlakar 'Kamal' and a young Acharya Shri Purushottam 'Uttam'. It was a thought which pioneered academic rigor in a region that had traditionally lagged in terms of education. These two teachers took upon themselves, the herculean task of taking education, free thought and liberal ideas to the doorsteps of those who were poor by dime, to those who were poor by gender and to those who were poor by birth.
Sahitya Sadawart which literally translates to unfettered and all-pervasive dissemination of knowledge is the umbrella organization under whose aegis multiple schools, colleges, research centers and a University have taken shape and prospered.
The Foundational Years
Peripatetic instructors, with little or no money put all their heart, mind and spirit into Sahitya Sadawart and laid the foundation of an edifice which was to change the course of things for an entire generation in Jaipur. The institution grew, albeit gradually. With the coming of mid 1950s multiple learning centers had been transformed to multiple schools which offered formal education to the kids, adolescents and adults of a newly formed Rajasthan. In the years to come, aided by his zeal to teach and his commitment to the nation building process, Acharya Shri Purushottam 'Uttam' made a name for himself as the quintessential teacher earning the epithet of 'Acharya'. Revered by scores of Alumni who brought laurels to Sahitya Sadawart by excelling in various fields and leading the success story of a newly formed Rajasthan, he had set the stage for Gyan Vihar to take shape.
The transformational years
Our founder Shri Suresh Sharma began his journey as an educationalist and a social entrepreneur with the establishment of Sahitya Sadawart School. For years to come his influence on the educational system of Jaipur was evident as he established various schools all across the city focussed on women and underprivileged student education. As a stalwart of congress party, he also played important role in education policies of the party in the transformational years for development in Rajasthan.
The Beginning of the Gyan Vihar Universe
Gyan Vihar which commenced its journey as an experiment to redefine school education in Jaipur has now culminated into Gyan Vihar Universe, a galaxy, with some truly stellar constellations, Suresh Gyan Vihar University and Gyan Vihar School being the more recognized names. Gyan Vihar School came into existence in the year 1994. It was a concerted effort to combine the best of western and eastern pedagogy to create the kind of atmosphere where kids could learn and "fly free". The foundation stone of Gyan Vihar was laid on 19 February 1994 by Acharya Purushottam and Shri Suresh Sharma.
Gyan Vihar brings Technical Education to Rajasthan
In 1999, Gyan Vihar decided to launch a technical education institution to serve the students at a national level and a new establishment was planned that would adopt and employ new technologies and advances in the field of Science. Thus was born the Gyan Vihar School of Engineering & Technology, which was spread over 32 Acres of land within the municipal limits of Jaipur City.
Government of Rajasthan makes Gyan Vihar a University
As a step to elevate quality in higher education learning in Rajasthan, the state government decided to offer university status to a few eminent education institutions in the state. Gyan Vihar University was established by Government of Rajasthan Act No. 16 of 2008, passed in state Assembly of Rajasthan, giving it the status of 'State University'. University Grant Commission released the approval for the establishment of the University and empowered to award degrees as specified by the UGC U/S 22 of UGC Act 1956. It was to recognise the hard-work that had not only made Gyan Vihar the beacon of higher education learning, but the generational change that it had brought to Rajasthan education system.
Becomes Rajasthan's only NAAC "A" accredited private university
Within 10 years of its foundation as a University, Gyan Vihar was recognized for its quality in education delivery and research potential by the NAAC council of Higher Education Ministry of Government of India. It is due to the diligence of our faculties,administration and students that such a feat has been achieved. Vihar is to date the only Private University in Rajasthan to be awarded this status.